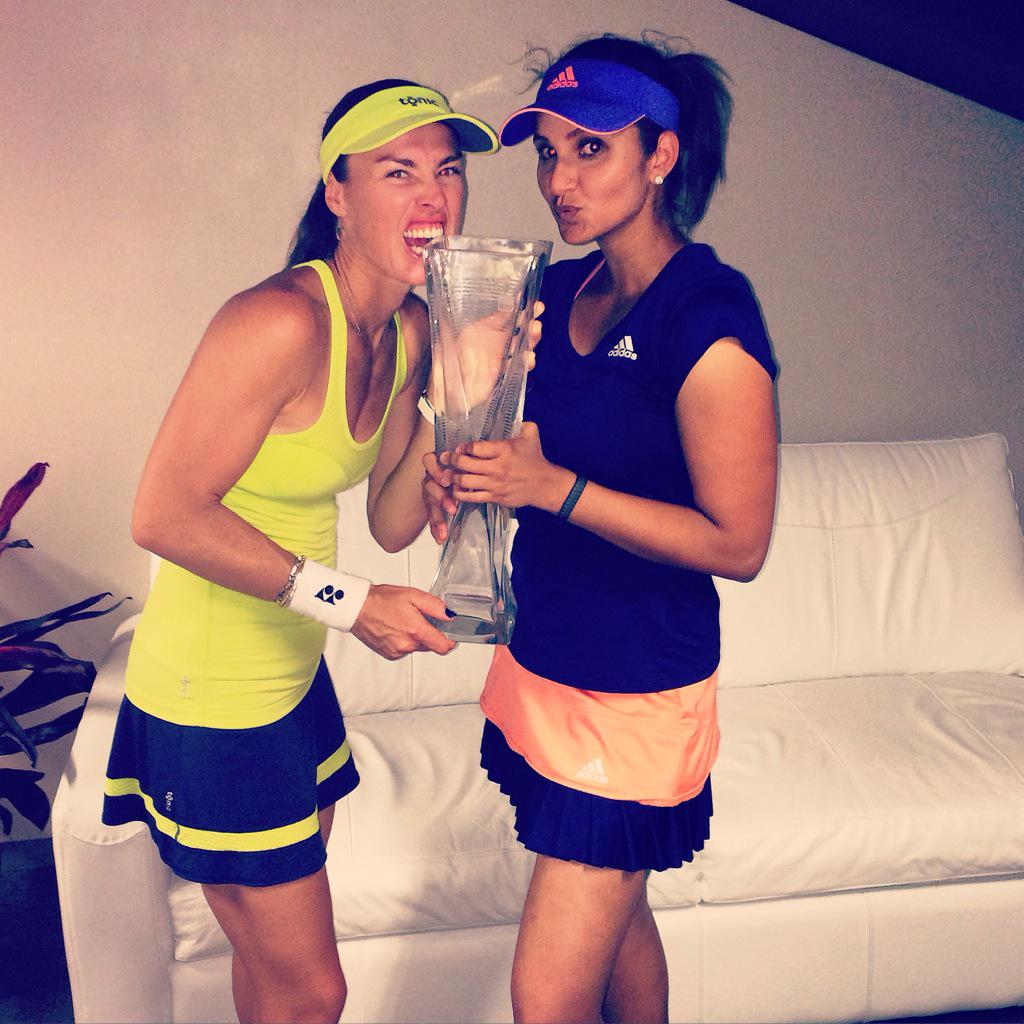 First two tournaments, first two titles - Martina Hingis and Sania Mirza continued their dream start together, adding the Miami Open title to their BNP Paribas Open title....
MIAMI, FL, USA - They were in a lot of trouble early on, but Martina Hingis and Sania Mirza battled back to beat Ekaterina Makarova and Elena Vesnina on Sunday to win the Miami Open doubles title.
The No.2-seeded Makarova and Vesnina came out strong, storming out to a 5-2 lead, but the No.1-seeded Hingis and Mirza came alive from there, reeling off eight games in a row - even staving off a set point - to surge ahead, 7-5, 3-0. They barely looked back to close out the Russian pairing, 7-5, 6-1.
"The most important thing is that we never stopped believing we're a great team," Hingis said of the early deficit. "They played a great set to get us to that position, 5-2 down. Then we just tried to stay in there and get our chances. We just built on every point, which is what we did well last week too."
The Swiss-Indian duo talked about how an on-court coaching visit helped them turn it around.
"Today the coaching really turned it around - your dad came on court," Hingis said to Mirza.
"We just tried to keep telling each other to enjoy the struggle," Mirza said. "Last week everything came very, very easily to us - we didn't lose more than four games in a set. Over here we were down, and we were panicking. It was like, 'Oh my God, we're not playing well.' We just weren't used to that.
"But it's good to fight through those matches and believe, and come out now and be like, 'At 5-3 I was gutsy to hit a big serve,' or she made a huge move at 5-4, if that makes sense. So it's good."
It has been an absolute dream start for Hingis and Mirza - the two Premier Mandatory events in Indian Wells and Miami were their first two tournaments playing together. They're now 10-0 together, and even more impressively, they haven't lost a single set along the way - they're 20-0 in sets together.
Hingis now has 43 WTA doubles titles to her name, which matches the 43 WTA singles titles she's won in her career. Meanwhile, Mirza took home the milestone 25th WTA doubles title of her career.
Both teams will also make big moves up the Road To Singapore doubles leaderboard, the year-long journey to the doubles event at the BNP Paribas WTA Finals Singapore presented by SC Global. Makarova and Vesnina will go from No.2 to No.1, while Hingis and Mirza will go from No.9 to No.3.
Source:- WTA Tennis