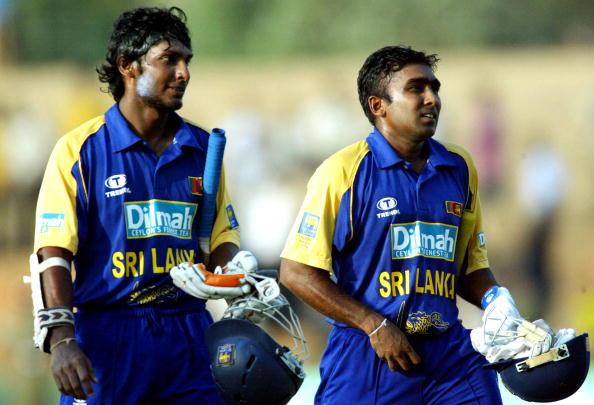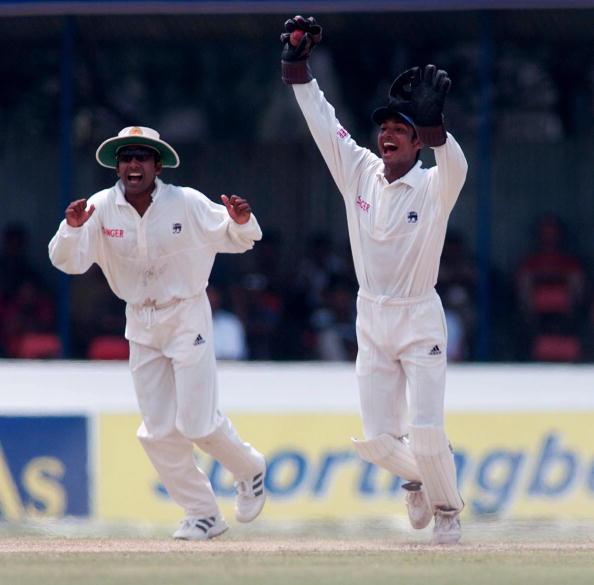 Sri Lanka's exit brought the curtains down on Kumar Sangakkara and Mahela Jayawardena's ODI careers....
Ultimately, obtaining a piece of the silverware was not to be for two of the one-day game's greatest batsmen, with Sri Lanka's World Cup exit also signalling Kumar Sangakkara and Mahela Jayawardene's ODI farewell.
For Jayawardene, retirement beckons, while Sangakkara will continue playing the five-day game until Sri Lanka's Test series against India in August.
For more than a decade, the pair has been a staple of the Sri Lanka line-up.
Best friends who were schoolboy rivals before making their international debuts, together they have played in World Cup finals and claimed a World T20 title together.
They have pursued a passion for charitable work and gone into business together.
Both have captained Sri Lanka and have batted 293 times together in international cricket for a total of 13,368 runs, more than any other due in cricketing history and ahead of Sachin Tendulkar and Sourav Ganguly with 12,400.
In Colombo in 2006, they put together a World Record stand of 624 runs, Jayawardene contributing 374 runs and Sangakkara 287.
Both Sangakkara and Jayawardene sit in the top five run-scorers in the history of ODIs, on 14,234 and 12,650 respectively.
In Test cricket, Sangakkara has scored 12,203 runs and Jayawardene 11,814, placing them fifth and seventh on the overall list.
Their partnership has been enduring both on and off the field and Sri Lanka cricket will miss them dearly.
In their three previous World Cups appearances together - in 2003, 2007 and 2011 - they saw Sri Lanka to a semi-final and two finals.
Jayawardene also played in the 1999 World Cup.
While winning the 2015 trophy would have been a fairy tale finish for the pair, Sangakkara shrugged aside the disappointment of the quarter-final defeat after the match.
"That's the way it goes. Someone has got to lose in a quarter-final," he said.
"It could have been my last game, it could have been one of the games that I've played. I don't think that makes a huge difference or adds to the disappointment."
Sangakkara says goodbye to the one-day game in sublime form, having scored 105* against Bangladesh, 117* against England, 104 against Australia and 124 against Scotland.
In his final match, he made a stoic 45 while his teammates crumbled around him and at the end of the match, he sat on top of the tournament run-scoring tally with 541 runs at 108.2.
Against Scotland, he became the first player to score four consecutive one-day international hundreds, while this tournament has also seen him claim the record for most World Cup dismissals.
Sangakkara has averaged just under 60 in his last 66 ODIs, having scored 11 centuries and 20 fifties, and scored three centuries, two double centuries and one triple century in his last two years of Test cricket.
Even his captain Angelo Mathews has said he "got down on one knee" and begged Sangakkara to reconsider his retirement.
The 37-year-old who has played 404 ODIs and 130 Tests for Sri Lanka since breaking into the team as a 22-year-old.
Jayawardene, born five months to the day earlier than Sangakkara, made his international debut three years earlier, playing his first Test against India in 1997.
His ODI career has featured 448 matches and 19 centuries, while his 149-match Test career included 34 tons.
Like Sangakkara, Jayawardene is leaving the one day game in excellent form, having averaged 35 in ODIs over the past two years.
In his last 10 Tests before his retirement in August, he scored one double-ton, two centuries and five fifties.
During this World Cup, he scored a crucial century when Sri Lanka was in trouble at 51-4 against Afghanistan in Dunedin.
Jayawardene and Sangakkara have shared runs and friendship, but another shared trait makes this pair stand out – their sense of humility.
The esteem they are held in by their peers was obvious after the quarter-final, when the South African players made way to allow the pair to leave the field, hugging and patting them on the back as they departed.
Neither player is being forced into retirement. For them, it is just time.
"Retiring from cricket is not about form,' Sangakkara said after the match.
"I'm sure I can play maybe a year or two more, but like I said before, it's time and place, and I feel that the time is now and it's right.
"The World Cup, with a four-year wait in between, is the right occasion to do it."
He signed off his one-day career in typical Sangakkara manner. Asked how he would like to be remembered in cricket, he said: "If anyone can say that they've enjoyed playing against me and playing with me, I'll be more than happy."
Source:- http://www.icc-cricket.com