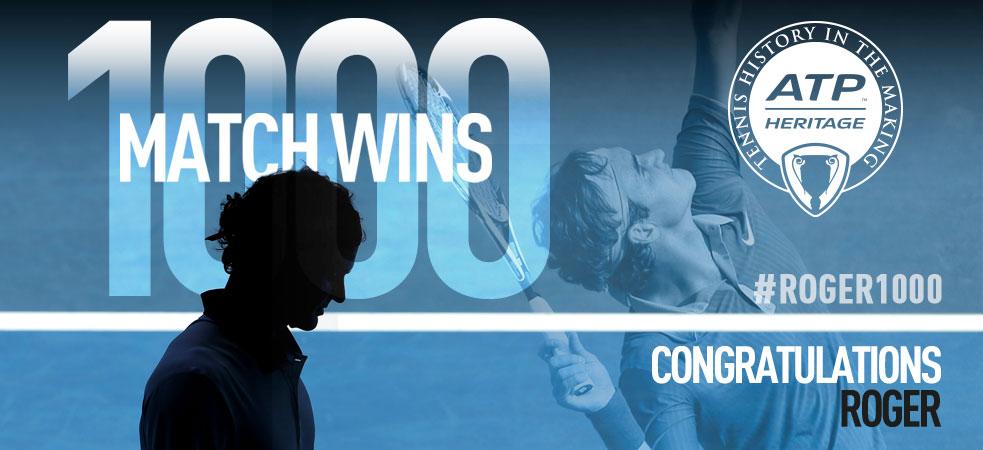 Sporting immortality long assured, Roger Federer has added another jaw-dropping achievement to one of tennis' greatest careers.
By lifting his 83rd tour-level title at the Brisbane International presented by Suncorp today, Federer joined a very exclusive club.
The Swiss followed in the footsteps of Jimmy Connors and Ivan Lendl as the only players in the Open Era (since 1968) to have reached the 1,000 match wins milestone.
The feat reflects dedication, commitment, longevity and, most importantly, desire.
"To be the best, year-after-year, takes a good team of support with coach and trainer," says Pete Sampras, a six-time year-end No. 1 in the Emirates ATP Rankings, who recorded 767 match wins. "It's having to play through times when you aren't playing well and trying to find a way to win those matches you have to win."
Connors conjured through intensity; his fun came from the battle, and he became the first to achieve the feat in early 1985. He retired with a record 1,253 match wins. Lendl, the father of modern tennis, who out-psyched and dictated, got to the mark at Basel in October 1992.
"You work hard and prepare hard to play consistently," says Lendl, who notched 1,071 career match wins. "I remember when I played over 100 matches per year in the 1980s and never thought about it. Obviously, getting to 1,000 wins is more difficult than it seems. It's really rare. But I looked at it as a by-product of winning so many matches and being consistent for that long."
Both Connors and Lendl, like Federer, combined a relentless hunger and consistency that have become the hallmarks of modern professionalism.
Rod Laver and Ken Rosewall, who both recorded more than 1,000 match wins in their careers during the amateur, pro tour and Open Eras of the sport, are certain as to the reasons why Federer has been able to consistently beat the very best.
Laver, who won 200 titles during a 24-year career, insists that it is because of Federer's "anticipation, strategy and fitness, along with being able to play on all surfaces."
"By staying healthy and injury free, you can stay in good shape," says Rosewall, who competed globally from 1951 to 1980. "He maintains his desire to play, because he loves to compete. For what he has achieved, Federer competes with a lot of pressure. He is one of the icons of tennis."
Physically unchanged since his ATP World Tour debut at Gstaad in 1998, the lean Swiss has also continually evolved as a player to stay ahead of his rivals and at the top.
Just take Federer's decision in late 2013 to hire one of his childhood idols, Stefan Edberg. Laver believes, "Stefan has been a great help, giving Roger a little more confidence at the net, and where to place your volleys." Federer looked to improve an under-used aspect of his game in order to prolong his record-breaking career.
At 33 years of age and with two sets of twins to look after, he shows no signs of letting up. He remains a standard-bearer for excellence and is followed by example. In 2015, his 18th season as a pro, he continues to make sporting history.
By : James Buddell