The 'Mind Matters' tutorials are mainly presented by Marcus Trescothick, who has suffered from depression and anxiety throughout his career
Former England batsman Marcus Trescothick is helping to spearhead a new campaign to help cricketers tackle depression and addictive behaviour.
The Professional Cricketers' Association (PCA) have launched a series of six online 'Mind Matters' tutorials, covering subjects including alcohol and drug abuse, gambling, anxiety and suicide, and offering advice on where to seek help.
The tutorials are mainly presented by Trescothick, who has suffered from depression and anxiety throughout his career.
"Thankfully mental well-being is increasingly taken more seriously and along with that comes a decreasing stigma for sufferers," Trescothick said.
"Cricket is quite a unique sport to play, and as people we are a normal cross section of the population and as susceptible as anyone to encounter problems of any nature."
Michael Yardy, who flew home from England's 2011 World Cup campaign due to depression, and Warwickshire wicketkeeper Tim Ambrose, another player to suffer depression, also present a section on the topic.
Former England all-rounder Andrew Flintoff and ex-Essex and Northamptonshire bowler Darren Cousins, who attempted suicide in March 2011 following his retirement, have also made contributions to the initiative.
PCA assistant chief executive Jason Ratcliffe said: "Cricket has one of the highest suicide rates in sport. We ran an addictive behaviour initiative at each county for current professionals four years ago, so the Mind Matters tutorials are a refresher of that content with the key addition of new sections covering anxiety, depression and self-harm.
"Importantly we want all of our members and their families to know how to access help if the need should arise."
Source:- vcricket
Bangalore:  It was the fortnight before Christmas. India were playing Australia at Adelaide in 2003, in a game quite rightly remembered as Rahul Dravid's Test. Historically poor chasers, who could not handle the pressure of batting well in the fourth innings, India had a wobble while going for victory. At 170 for 4, with the target still 60 runs away, the scenario was ripe for another implosion and heart-breaking loss.

Except, the man who walked in at number six didn't seem to have been told of India's historical frailty. At one end, Dravid was holding fort, but for a brief passage of play in that fourth innings chase, it was all about VVS Laxman. He ended up hitting 32 off 34 balls - rarely has a cameo been worth more.
Laxman did that to you. To the most hardened sports writers, or even number-crunchers - he made numbers superfluous. In so many matches, at so many crucial points, Laxman walked in for India, seized the moment, made it his own, and left the match indelibly altered, even if the innings itself didn't become a classic.
When he stayed for any length of time, he moved mountains and parted seas.
But whatever the length of his innings, he always had that air of being the man who would seize the moment. Not by the scruff of the neck - that wouldn't have been his style - but gently, if no less firmly.
On reflection, it seems odd that in a line-up that contained an opener who could score almost a triple-century in a day, a man who made obduracy a byword for his batting and was responsible for more Indian Test wins than any other, and another universally acknowledged as the modern master of batting, it should have fallen on Laxman to be the man for the moment whenever the extraordinary was required.
No, what seems odd is the fact that it didn't seem odd then - it felt natural. If something outside the boundary of rational expectation was necessary, VVS was the man.
It wasn't reasonable for people to expect a 281-at-Eden-Gardens every time India were in a tough spot after 2001, but Laxman's batting itself was not governed by what was reasonably expected. He ended with an average of less than 46 in an era when 50 is routinely achieved. And yet, in innings while following on, his average (146.50) is better than - wait for it - Sir Donald Bradman (119.50). He batted at number ten in Mohali in 2010 due to a bad back, but took India to victory in the second innings by putting on 92 runs with the last two batsmen. He scored 96 and 38 in Durban three months later when the best score by any other batsman across four innings was 39. This in a match featuring Sachin Tendulkar, Rahul Dravid, Virender Sehwag, Graeme Smith, Hashim Amla, Jacques Kallis and AB de Villiers.
His batting was all geometry and art - how could his masterpieces have been linear progressions?
Nobody else allied iron to artistry the way VVS did. If he had been Australian, he'd have been the synthesis of the images Steve and Mark Waugh had - gritty, in-the-trenches resolve like Steve, silken grace like Mark.
That is why he occupied the unique space of achieving so much on the field in difficult situations and simultaneously providing such joy when he did it.
And yet, it's difficult to think of any other man achieving what Laxman did and still having a selectorial axe hanging so readily over his head.
In a previous job, I had to interact with the people who handled public relations for a sports-related company that was venturing into cricket. The company's public relations people told me they were looking to ally themselves with pure cricket and none of the razzmatazz that accompanies Twenty20 leagues and spoke of which cricketers they were taking on board. I asked them, "Why not include VVS Laxman?" He was among the best faces for the purity of cricket and didn't have any rival contract either. All I got as an answer was, "Hmm, that is a very good question."
Perhaps because of the down-to-earth - almost self-effacing - nature of the man, it seemed so easy for many people to forget what he had done. Maybe that is why the big advertising contracts didn't come, and the axe was always poised to fall.
Ironically, now that he has retired, there is little danger of people forgetting VVS Laxman.
Arguments abound that he was among the last of a breed. That it will be impossible to find another like him, when young cricketers are increasingly looking to clear their front legs and give the ball a thwack for 20 overs, rather than glide it into empty corners of the field for three sessions.
It is difficult to argue otherwise. But VVS Laxman spoiled me that way. He taught me that it's okay to expect the irrational.
He brought a sense of wonder while watching him at work. Where his wrists could send the same ball to either cover or midwicket. Where his back - physically dodgy, metaphorically forged from steel - seemed at ease with the burden of conjuring victories when there was little hope.
And so, I expect I will never completely give up hope that the future may bring someone who can make batting look as easy, whose strokes are caressed rather than hit - maybe even someone who is as fluid while batting as he is lumbering in the field.
But I don't expect there to be another VVS. He gave me the greatest joy I have ever got while watching a cricket match, and formed part of my growing years. They don't come back, and that kind of unadulterated delight in what is, after all, a game, cannot be matched when childhood gives way to adulthood.
You won't just be missed VVS, you'll be ached and pined for.
--Saurabh Somani

Pune:  "Sport must be the heritage of all men and of all social classes," said Pierre de Fredy, better known as Baron de Coubertin, the founder of the International Olympic Committee and the father of modern Olympic games. Juan Antonio Samaranch expanded that vision in June 1993 with the Olympic museum in Lausanne, Switzerland. Today, it exhibits more than 10,000 pieces and attracts nearly 250,000 visitors annually. Up to 40 Olympic museums have sprung up across the world since then, and many more are in the pipeline.'
     In the cricket world, the Marylebone Cricket Club museum at Lord's in London showcases the sport's history from the 19th century onwards under one roof. Then, there is the Bradman museum in Bowral, Sydney. The comprehensive storyline weaved with precision and narrated animatedly by the tour guide turns the clock back and gives the visitors a virtual feel of a time that would have otherwise been buried under the excuse of routine commitments.
  India's first cricket club, the Oriental Cricket Club, was established by the Parsis in Bombay in 1848. India made their Test debut at Lord's in June 1932, have since produced 272 Test players and played 462 Tests in all. However, there is not a single platform that brings India's cricket fraternity together. Only readers of Ramachandra Guha's "A Corner of a Foreign Field: The Indian History of a British Sport" know the role of the Palwankar brothers in the evolution of Indian cricket.
  Except for cricket journalists and possessors of Anil Kumble's "Wide Angle", very few have a sense of how famous victories are celebrated inside the dressing room. Preservation and presentation of history will fuel the raw energy of a cricket-mad nation and enhance the depth of knowledge in the game. Otherwise, very soon, modern-day cricketers too will be alienated from those who can never see them play.
  In Live Mint this May, Rohit Brijnath had asked, "Why don't we preserve our sporting history?" The piece inspired this writer to visit Blades of Glory, India's first cricket museum, in Pune.
  Run by Rohan Pate, a former Maharashtra Under-19 cricketer, inaugurated during IPL V by Sachin Tendulkar and located in the quaint Sahakar Nagar, Blades of Glory is easy to miss because from the outside, it provides no indication of its connection with cricket. However, as the elevator opens out to the third floor of the Govind Gaurav Apartment, a treasure trove of rare cricket memorabilia spread across 4000 square feet comes into view.
  Fittingly, a frame that captures the evolution of cricket bats welcomes one to Blades of Glory. The fascia at the entrance is bisected by two larger-than-life posters – on one side is the 1983 World Cup-winning team and on the other side is the MS Dhoni-led 2011 team. "A cricket bat has been an instrument of glory for over three centuries," Pate explained. "I did not want the museum to be named after an individual. The place should have a larger appeal."
  The aesthetic woodwork on the interiors creates a relaxed ambience and it takes no time for the eyes to reconnect with the memory box tickled by the familiarity of the surrounding. Bats signed by the ICC One-Day International and Test teams of the year, and Indian and English players who featured in the 2000th Test match in July 2011, are lined up on one side of the wall. On the other side are a signed bat and gloves which Kevin Pietersen used during his 151 against Sri Lanka at Colombo earlier this year.
  In the 'legends room', the bats of Tendulkar, Rahul Dravid, Ricky Ponting and Jacques Kallis share space inside a glass case. The '300' section is made up of souvenirs of triple centurions in Test cricket. A little down the alley is a torn boot of Brett Lee, a Bradman case, Ashes Aussie batting hero frame, Yuvraj Singh's bat with which he hit six sixes in the World T20 in South Africa in 2007 and autographed jerseys of the famous West Indian opening pair of Gordon Greenidge and Desmond Haynes. The bowlers' case has cricket balls signed by prominent wicket-takers of world cricket. There is a Tendulkar zone and a Dhoni section, and all this form only 40% of the collection. Other memorabilia are waiting to be assigned their places.
  The project is still work in progress but the madness that has gone into acquiring prized possessions is obvious from the owner's decibel levels. "Sachin gave me his autograph and a used bat in 2010, and that's when I thought I should start collecting new things," Pate said. "Instead of collecting random autographed articles, a little thought went into packaging and here we are now. The World Cup helped a lot. My grandfather always wanted me to do something meaningful in cricket. I could not play at the highest level but now I have started this, something India needed to have."
  Like any assignment, this one too had several obstacles. "When I started this project, watertight security arrangements made it difficult for me to get physically close to cricketers. Then, Kapil Dev and Desmond Haynes helped me and through their network, I got access to Ijaz Ahmed in Pakistan and things started to fall in place," said Pate. "I have travelled around the world for this but there were days when I used to sit in the hotel lobby for hours without knowing whether the cricketers would come down or not … Then, I had to persuade many of them to part with their precious belongings and it was a challenge but when they came to see the place during the IPL, they were happy with the final outcome. The perseverance has paid off."
  Pate believes if he can link the current generation with cricket's history prior to the Twenty20 era, then his objective would be half attained. Hence, tickets are priced at just Rs. 50 so that entry is no deterrent to fans on the two days the museum is operational, Thursdays and Sundays. The entry fee proceeds go towards the purchase of gear for underprivileged cricketers. "We are planning to take the museum to a much bigger place," Pate said. "I hope to make this a must-see destination."
  If Blades of Glory, the first step towards redressing the imbalance between passion and a lack of understanding of cricketing history in the country, can remain self-sustainable and add more layers without being consumed by the lethargy of culture, it will inspire the future to respect their sporting heritage and change the way an entire nation views the legacy of its past heroes.
By: Sidhanta Patnaik.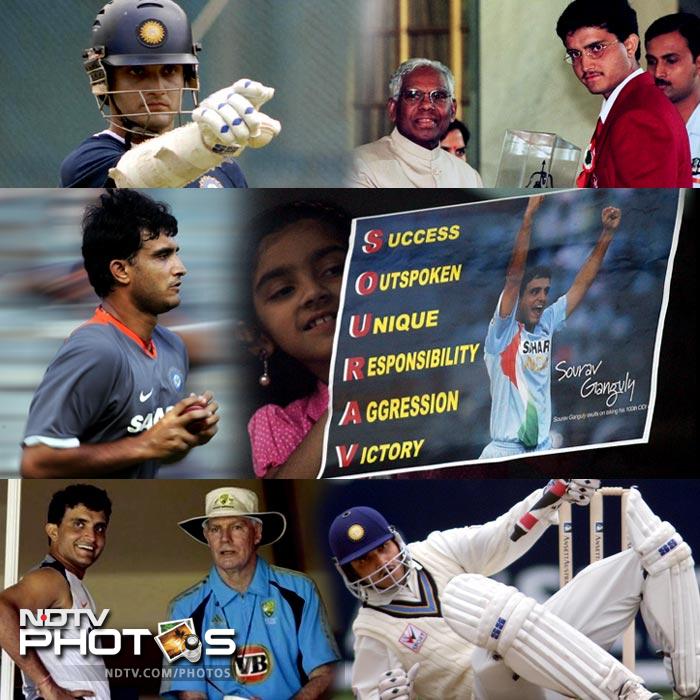 New Delhi:  "On the off-side there is God and then there is Sourav, " this was what Rahul Dravid had to say about a man he had debuted with at Lord's in 1996 - Sourav Chandidas Ganguly.
But it wasn't his ability on the off-side alone that made headlines - it was his unique ability to polarise opinion, that led to one of the most exciting passages in India's cricket history.
From being dropped after his first ODI to becoming India's most successful captain, then dropped after a fallout with the coach to finally making a comeback and retiring; Sourav Ganguly's cricketing journey has been a roller-coaster ride by any standards.
Indian cricket has seldom been short of talent but only a few have had the ability to mould that into a winning outfit. Sourav Ganguly is one of them.
A stylish left-handed batsman, Ganguly pierced the off-side with surgical precision. He was often questioned for his lack of athleticism and slow running between the wickets but more often than not his bat answered them back quite comprehensively.
His mismatch with the short ball was a subject of criticism for many but not as much as the praise for his brilliant strokeplay. Known as the Royal Bengal Tiger, Sourav Ganguly stands to be one of the most successful batsmen in the history of the game till date.
Born in Kolkata in 1972, the young Sourav was keener on playing football. But he was pushed towards cricket by his elder brother Snehashish, a first class cricketer himself. Despite being naturally right-handed, Sourav learnt to bat left-handed so he could use his brother's equipment. It turned out to be a crucial factor in his career - India in the 1990s lacked quality left-handed batsmen.
A prolific run-scoring Ranji Trophy season earned him a place in the ODI squad in 1992 but a three-run stay at the wicket in Brisbane, Australia was not enough to retain it. He was dropped immediately after the disastrous 1991-92 and many believed his career to be over.
His patience and perseverance paid off four years later when he was finally picked to the Indian Test squad for the England tour. Navjot Sidhu had walked out of the tour after an altercation with skipper Mohd Azharuddin, and Ganguly walked in at number 3 in the second test at Lord's in 1996. He went on to score a century and followed it up with another one in the next match at Nottingham.
In October 1996, he was promoted to partner Sachin Tendulkar at the top of the order in the ODI team.
And that forged one of the most memorable opening partnership in one-dayers - amassing 8200 runs, the highest ever for India, at an average of over 47 runs including 26 century stands.
The year 1997 was also a personal landmark for the Bengal southpaw - he married his childhood love Dona despite reports of disapproval from the two families.
One of the most solid performances of Sourav Ganguly's career came in the year 1998 when his century took India past Pakistan's huge total of 315 runs in the final of the Independent Cup in Dhaka.
In 2000, at a time when match-fixing revelations troubled Indian cricket, Sourav Ganguly was handed the captaincy of the team.
Also called the Maharaja, his attitude was sometimes questioned by opposition and detractors. But fans believe it was this attitude that he brought to the side, and benefitted India the most.
From 2000 to 2005, he forged a great partnership with John Wright. 'Dada' led India to the famous NatWest series win and levelled the series in England and Australia. He also led India to the World Cup final in 2003.
His victory in Pakistan seemed to be the ultimate high and indeed it was.  Apart from loss of form, a series of controversies unfolded starting with an incident in Nagpur in 2004. Sourav Ganguly opted out of a Test match against Australia because of a rift with the groundsman. Rahul Dravid captained the side and India went on to lose a series to Australia at home for the first time in over three decades.
Ganguly's rift with new coach Greg Chappell, who took over in 2005, soon unfolded with reports of the latter asking him to step down right before a match. He was dropped from the side and many believed this to be the end of the road for Dada.
But Dada, as Sourav was fondly dubbed, refused to just fade away. At the age of 34, he began his quest to make it back into the Indian team for the second time in his career.
His relentless effort ensured that he was picked for the South Africa tour in 2006-07 where he ended up as the leading run-scorer. He also toured England and Sri Lanka and finally retired in the home series in Nagpur against Australia. He felt he'd done enough to go out with his head held high.
Sourav Ganguly continued to play the Indian Premier League with the Kolkata Knight Riders and Ranji Trophy for Bengal. But after a disappointing IPL 3 in 2010 he was dropped from the Kolkata Knight Riders franchise. But again, he refused to go; he was back in the the IPL foray with the Pune Warriors in 2011.
Such is his charisma, that even today, when he steps out at the high-capacity Eden Gardens, his support overwhelms that for the home side Kolkata Knight Riders.
On May 10 2012, Pune Warriors franchise owner Subrata Roy indicated that the Indian Premier League's fifth edition would be his last.
Source:- CricketNDTV

     Rahul Dravid's retirement has triggered the crucial question as to who would succeed to his No.3 spot as India finds itself in the lurch. In the midst of this talk, however, the larger, more critical point has been missed --- 'What makes a player Dravid-like?'  Whoever aspires to fill that void now must realise Dravid wasn't just a name, but a whole philosophy.
Live like a monk:-
     Even on days when there wasn't a cricket match the next day, Dravid would still prefer to follow a set routine, including hitting the sack early and waking up early too. This meant he didn't have to adjust to a new routine when a Test series came calling. He liked his life hassle-free, on and off the field. Everything was planned meticulously, even time spent on the breakfast table.
     Much of the endurance, persistence and the wisdom Dravid showed through these 16 years came from the life he lived and the person he was. India has great talent, but would a young cricketer in today's day and age want to slow down, make sacrifices and transform his lifestyle to be a purist?
     After the first edition of the IPL, Dravid and I agreed the biggest concern with Twenty20 cricket was the idea of getting out for a paltry 30. Players who had grown up in that era - when leaving balls, waiting for the right ones, and curbing one's natural instincts was considered mature, were made to believe one must make every start count and that getting out after reaching 20s was a bigger crime than getting a single digit score. The time tested formula to decipher a batsman's role in the side was to divide 150 overs amongst the top six batsmen, which meant each batsman must bat 30 overs each, every time. Today, it's not only acceptable but also mandatory to get out cheaply to accelerate the scoring rate.
Team before Self:-
     If Tendulkar has been the God of cricket, Dravid has been that great who kids growing up in the last decade or so have learnt to eulogise and emulate. Dravid gave a whole generation a hope to live by, that honest and hardworking people do ultimately reach the top. He needed to raise the bar to become relevant in the shorter formats, he needed to score at a fair clip in Tests to give bowlers enough time to bowl the opposition out twice, and he did all of that and more.
     He also did things he didn't have to, like keeping wickets to lengthen the batting, opening in Test cricket because no one could do the job then, even demoted himself in the batting order to play the role of a finisher. Will we ever find such a self-less man?
Source:- (This was an article that was posted in the site: vcricket.com soon after the announcement of Rahul Dravid's retirement; the author is unknown).

New Delhi:  After his 183 against Pakistan, Virat Kohli has become cynosure of all the eyes. His recent form and the way he's been scripting scintillating wins for India, he's been called as the next big thing.
  This 23-year old cricketer hogged the headlines when he went to play a Ranji match a day after his father had passed away.
  To touch great heights you need to have deep roots. That is the story of Virat Kohli. His father pushed him into the game cricket but wasn't there when he reached his prime.
  The Delhi boy announced himself as India's gen-next, leading India to the under-19 World Cup in 2008.
  In his 14th one-dayer for India, half of which he had played as a substitute, Virat fastracked his way to his maiden 100. And his Delhi teammate acknowledged his achievement and gave away his Man of the Match to him.
  Consistent success saw Virat get a World Cup call up. And it paid off, as he became the first Indian to score a century on World Cup debut.
  In his three and a half year career, Virat has been quite a milestone man. He became the youngest player to lead Delhi in a Ranji game, and also the fastest Indian to get 1000 ODI runs
  He's also the only player the Royal Challengers Bangalore retained from their original pool.
     In 2011, he was the highest run getter in ODIs, and this year too he's just 5 runs behind Kumar Sangakkara, the leading run getter.
     So far he has scored eleven centuries and ten of them have resulted in India wins. In fact he's scored thre hundreds in the last four games that he has played.
  But it's not just his performances with the bat that have pleased the cricketing world.
     After the World Cup win, when Nasser Hussain asked him why he and his teammates carried Sachin Tendulkar on their shoulders, Virat replied: "He has carried us the nation's burden on our shoulders for 21 years. It's time we carried him on our shoulder."
     This answer won him many admirers. But it's not just shouldering senior champions; Virat has become quite adept at shouldering the responsibilities of the team when it comes to pacing an innings, a quality that he has displayed in Tests as well. After all, he was the only centurion on India's disastrous tour Down Under.
  Virat Kohli's journey to the top has been one, that's filled with hardships. Losing his father at the age of 17, in the middle of a Ranji Trophy match, turned him from a boy to a man, almost overnight.
     "It is difficult to suppress such things at such a young age. His father had passed away and he went to play the match. But it was only his willpower. From that very moment he thought positively. From that very moment he became mature. Earlier, he was as bubbly as any kid of that age would be," says his mother.
  Vikas Kohli, his brother, believes he couldn't have done what Virat did then. "If I take myself I couldn't have done this."
  Virat did it because cricket was his life.
NDTV Correspondent.

Kabul:  Thousands of Afghans took a break from the war Friday, glued to their television sets to watch their cricketers take on neighbouring Pakistan in a historic One-Day International.
     Newcomers Afghanistan, who have played just 18 one-day internationals against fellow low-ranking teams, are playing their first match against a top Test playing nation.
     The game has a limited following in the capital Kabul but a strong fanbase in the south and east of the country, near the Pakistan border.
     In the southern city of Kandahar, heartland of both Taliban insurgents and cricket lovers, shops closed as fans converged on any television screen they could find to watch the match, played in Sharjah.
     "Hundreds of cricket fans have come to the Kandahar Olympic Committee office to watch this exciting game on the big screen," said Sayed Sarwar Amani, head of the martial arts federation.
     Many travelled from rural areas into the city to watch the match because they have no electricity at home, he said.
     Most fans were young, in their 20s, he added -- a reflection perhaps of the relative newness of the game in Afghanistan, brought to the country by Afghan refugees who learnt to play in refugee camps in Pakistan.
     "We hope to have a fighting game of cricket with Pakistan, and hope to defeat them in this historic game," he told AFP as the match got underway with Afghanistan winning the toss and choosing to bat first.
     A Kandahar district security chief said he and about 20 policemen were watching the match in his office.
     "I have been waiting for this game for a long time. This is not a cricket game, this is the war between Afghanistan and Pakistan," said Pahlawan, who like many Afghans uses just one name.
     But as the security forces watched the game, some of their enemies among the Taliban were following it too.
     "I am personally a fan of cricket, I will follow this match closely," Taliban spokesman Zabiullah Mujahid told AFP ahead of the match.
     Truck drivers also took a break, pulling up at the Spin Boldak transport department offices near a border crossing into Pakistan to watch the game, said Mohammad Khalil, who works for the department.
     "About 12 drivers who are exporting dried fruits to Pakistan stopped their trucks on the way and they are watching the game of cricket," he said.
  "They say once the game finishes they will go to Pakistan."
     Friday's contest is fitting because most of the Afghan players learnt the game in Pakistan after fleeing the Soviet invasion of their country in 1979.
     Afghanistan gained a notable foot up on the world cricket stage by finishing fifth in the 2011 World Cup qualifiers which earned them the right to play One-Day Internationals.
- - - Agence France-Presse.

Kolkata:  Batting genius Sachin Tendulkar on Tuesday completed 22 marathon years in international cricket, still awaiting a record 100th international ton. The Mumbaikar has gone without a century for the last eight months.
     It was on November 15, 1989 that a shy 16-year-old Tendulkar made his debut for India under Krishnamachari Srikkanth in the Karachi Test against Pakistan, with cricketing pundits immediately professing the advent of a talent capable of breaking all batting records in the years to come. He made his ODI debut in the same tour at Gujranwala, and has never looked back.
     Tendulkar now lies ninth in the list of players with the longest careers in Test cricket. English all-rounder Wilfred Rhodes holds the unique record of representing his country for 30 years 315 days from June 1, 1899 to April 12, 1930.
     Englishmen Dennis Brown Close and Frank Wooley occupy the second and third place respectively. Close played Test cricket for 26 years 356 days, while Wooley's career spanned 25 years 13 days.
     Others ahead of Tendulkar are George Headley (West Indies), John Traicos (South Africa and Zimbabwe), Jack Hobbs (England), Geroge Gunn (England) and Syd Gregory (England).
     With 15,086 runs under his belt in 183 Tests (till the first innings of the ongoing match against West Indies at Eden Gardens) and 18,111 in 453 ODIs, Tendulkar holds the record for the maximum number of appearances and being the highest run-getter in both forms. He also has to his credit the most number of hundreds - 51 in Tests and 48 in ODIs.
     At 38 years, he is the second oldest Indian still playing international cricket after teammate Rahul Dravid.
     Having carried the aspirations of millions of fans for over two decades, defying a number of injuries - including a career threatening tennis elbow - Tendulkar has emerged possibly one of the greatest icons the country has produced in all spheres of life.
     Fans from Kashmir to Kanyakumari worship him, sponsors and endorsers stake their fortune on him confident of reaping rich dividends, and budding players know, who to look up to as role model.
     On his part, Tendulkar has always steered clear of controversies on and off the field and played the gentleman's game in its true spirit.
     The century draught from Tendulkar's blade has generated lot of debates and discussions. After Day 1 of the ongoing Test at Eden, West indies head coach Ottis Gibbs commented that the pressure of expectations from his huge Indians fans seem to be affecting Tendulkar.
     After scoring a century in the Cape Town Test against South Africa, January 2, Sachin has failed to play even one triple figure knock in the 12 Test innings, the highest being 91 at Oval during India's disastrous English tour in summer.
     However, he did get two ODI hundreds during this time - 120 against England at Bangalore and 111 facing South Africa in Nagpur. The last one came March 12.
     When Tendulkar started his ODI career, he took almost five years to get his maiden hundred that came in 1994 against Australia in Colombo. Then even Sunil Gavaskar commented that once he gets his first one, there will be no stopping him.
     There has been no stopping the 5'5'' talent, and one hopes the magic big ton comes soon.
Source:- Indo-Asian News Service.
Mumbai: With the India-England ODI series around the corner, here's a look at the eventful tour from 2008 which had a rather unfortunate end.
All-round Yuvraj
The series started with Yuvraj Singh scoring back-to-back centuries in the first two one-dayers, including a magnificent 138 in Rajkot. The all-rounder had 325 runs and five wickets from the series when unforeseen circumstances put an end to his blitz.
The Batting PowerPlay
The new Powerplay rules, where the batting side decides five overs that will be part of the fielding restrictions, were introduced during this ODI series. India's batsmen, primarily Yuvraj and skipper MS Dhoni, were the first to exploit the new addition to one-day cricket. England, on the other hand, lost the plot during the five-over period.
KP upset with venues
After bad light forced an early end to the Kanpur ODI and handed India a 3-0 lead in the series, Pietersen questioned the authorities decision to hand matches to venues that didn't boast of floodlights. He was unhappy that Guwahati was to host the sixth game, a match that never took place because England returned home early.
Dhoni vs media
When Irfan Pathan replaced RP Singh for the fourth and fifth ODIs, there were reports of disagreement between skipper MS Dhoni and the selectors. This did not sit well with Dhoni, "I don't know where the report came from. What happens inside a meeting where the selectors, the captain and the coaches are there, when it comes out it is disgusting and disrespectful," Dhoni said ahead of the fourth ODI. "Things like this should not be happening. I'm not saying something happened at the meeting, but over the years we have seen things being leaked from meetings," he added.
Yuvraj a "pie-chucker"
Like the great Sachin Tendulkar, Pietersen was developing a habit of getting out to left-arm spinners. He was evidently frustrated when Yuvraj snared him in the second ODI at Indore. Pietersen's frustration boiled over later on that tour (after England returned to India to play the Test series) in the Mohali Test. When Pietersen scored a century, he labelled Yuvraj a "pie-chucker" and suggested that he was a purveyor of "left-arm filth".
The southpaw didn't take kindly to the taunts. After the fourth day of that Test, Yuvraj walked into the press briefing, saying: "Relax, the pie-chucker is here," and said: "When I woke up this morning and saw the paper I asked what it meant. They told me it meant I was a useless kind of a bowler so it shows KP hates getting out to me -- getting out to a useless bowler five times is quite useless batting, I would say." Classic Yuvi.
Terror strikes, England flee
India were up 5-0 in the series and looking good for a whitewach when a terrorist attack in Mumbai on November 26th  changed things. The last two games of the tour were cancelled as England returned home, only to return two weeks later for the two-Test series.
KP, Moores lose jobs
A series of disagreements on the tour of India between the captain and coach resulted in the ouster of both from the helm of English cricket. The crisis took an ugly turn when Pietersen informed the England board on New Year's Eve that he could not take the team forward if Moores remained the coach. Eventually, Pietersen was forced to resign as captain, which led to Andrew Strauss taking over.
India 5 - 0 England
* 1st ODI, Rajkot: India won by 158 runs
* 2nd ODI, Indore: India won by 54 runs
* 3rd ODI, Kanpur: India won by 16 runs (D/L method)
* 4th ODI, Bangalore: India won by 19 runs (D/L method)
* 5th ODI, Cuttack: India won by six wickets
Source: Mid-Day.com

     Victory brings the warmest glows but the cold light of defeat can bring clarity. The great thing about success is that it is often self-perpetuating, but the trouble is, it can sometimes obscure flaws. If India aren't sick to their stomachs after being handed out a drubbing reminiscent of their dark ages, they don't possibly care enough; but not everything will have been lost if the pain of this defeat spurs the changes essential to prevent a free fall.
     It was just as well that Sachin Tendulkar didn't go on to get his 100th hundred at The Oval. It denied India a distraction, a glimmer of feel-good in their hour of misery. Indian cricket doesn't need the blow to be softened at this moment; instead it needs to feel the full impact of this devastating loss, feel the pain, look within and ponder the future with a clear understanding of their failings.
     Success highlights strengths but failure often offers better opportunities to learn, for it exposes weaknesses. Those who remain successful for long periods use lessons from failure to their advantage.
     India didn't fluke their way to the top of the Test table, or to their World Cup win; indeed, they scrapped every inch, digging into their deepest reserves and drawing on the exceptional skills of a core group of cricketers. They won the World Cup despite the thinness of their bowling attack and despite being the most unathletic team in the tournament. They drew the Test series in South Africa despite not having played a practice game and despite losing the first Test by an innings and some. They managed to beat Australia in a Test by adding nearly 100 runs for the last two wickets in the final innings. In the series before that, they came back after a huge defeat against Sri Lanka. The rescue act was bound go awry some day, and England were too good a team let India come from behind.
     The appraisal must begin with honesty. India will do themselves no favours by wishing this away as an aberration. A return to winning ways in one-day cricket or against West Indies at home should change nothing. There has been talk about them not respecting their No. 1 status. The truth, perhaps, is that they backed themselves to overcome the lack of preparation, bench strength and general fitness.
     Zaheer Khan turned up with a paunch and without match practice; Tendulkar came off a holiday; Virender Sehwag chose to postpone his shoulder surgery until his team had been knocked out of the IPL, and landed in England after India were two-down; Gautam Gambhir, who played the IPL with an injury, chose to sit out the second Test because of a painful elbow. India delayed calling for an replacement for Zaheer until the second Test. Eventually RP Singh was summoned from Miami, and he arrived looking every inch a man who had been enjoying the good life.
     It is one thing for a team to believe it can fight its way out of the worst adversity, another to repeatedly put itself in adversity. India ticked every box for how not to prepare for a big series.
     Administrators and players must be honest about where they stand vis a vis Test cricket. The No. 1 spot in the format was attained not by design but through the burning ambition of a small group of Indian cricketers, for whom the Test version remained the pinnacle. The awakening among the administrators came only after the team became No. 1. Hastily a one-day series against Australia was rearranged to accommodate two Tests. Much in the same manner, an additional tour game is now being sought before the Test series in Australia.
     Administrators bristle and players shy away when it is suggested that not everything about the IPL is good for Indian cricket. Of course, there is no denying it its place. Crowds love the entertainment, players love the financial security it provides, and administrators love the might the money brings. But the real challenge for India is to keep Test cricket attractive to players, and it won't be achieved by mere sloganeering.
     The biggest problem with Twenty20, and particularly with the IPL, is that it provides disproportionate rewards for too little work and limited skills. Who would pass up the chance of earning in six weeks what might otherwise take a couple of years? There is no other reason why even those Indian players who had withdrawn from playing international Twenty20 even before the IPL began, would never consider missing an IPL season.
     It is up to the Indian board, if it wishes to back its words up with deeds, to provide enough incentives to keep the players interested in Test cricket, which requires far greater toil, not merely on the field but also in preparation. To turn up and deliver four overs of change of pace might not be as simple as it sounds, but weigh that up against maintaining the intensity over 60 overs against international batsmen. Since they drew up the rules of the IPL and possess the cash to call the shots in world cricket, it is not beyond the means of Indian cricket's overlords to make the Test game the most remunerative form.
     And since they dictate terms in most matters, how difficult can it be for the Indian cricket board to draw up a schedule that gives their cricketers the best chance of success in all three forms of the game?
     If Indian players have looked utterly spent during the English summer, consider this: half the team will drag themselves to the Champions League three days after they complete their one-day assignment in England, then take on England in a five-match one-day series, and cram in a full home series against West Indies before flying out to Australia for four Tests and a one-day triangular.
     India's future without their batting greats is too gruesome to contemplate, but the bowling is already in crisis. Zaheer faces an uncertain future, Sreesanth has been a huge disappointment, and that Praveen Kumar, resourceful and skillful as he is, was India's spearhead in England, must say something. The spin front is even more depressing: Harbhajan Singh has continued to slide and not one credible contender is in sight.
     One way of looking at the ruins of this tour would be that it cannot get worse, but Indian cricket must brace itself that it's unlikely to get much better in the immediate future. As a Test team India have peaked and descent is inevitable. How well this is managed is to down to the leaders.
     The role of the captain and the coach will be vital. It is a test of character for MS Dhoni, who took over an upwardly mobile team and led them to heights never achieved before. But he will be required now to extend himself beyond the field - for players will need to be nurtured and managed. Duncan Fletcher is no stranger to building a team, but he must now demand and be given the powers he needs, and the space to help shape a team not merely capable of winning back the top spot but of holding on to it.
     The most important cog in this wheel will be N Srinivasan, the BCCI's president incumbent and widely acknowledged as the most powerful man in Indian cricket. More than anything else Indian cricket needs its priorities sorted and a roadmap set. It is inconceivable that a country so passionate about the game, with so much wealth and so many people, can't produce, by will and planning, another set of winners.
By: ESPNcricinfo staff.